THE UNDERWRITING EXCHANGE ("TUE") A LLOYDS BROKER
EXCLUSIVE RECOMMENDED BROKER OF THE ADC
A highly experienced team, who collectively have over 40 years in developing insurance products specifically designed for the Diving Industry, including bespoke products for ADC members.
The team are proud of their reputation with both insurers and clients in offering competitive terms and a fast, efficient and friendly service.
"TUE" would be delighted to discuss our product range which includes:
Employers Liability
Public/Products and Pollution Liability
All Risks on Diving/Underwater Equipment
Contractors All Risks (including deductible buy back)
Professional Indemnity
Personal Accident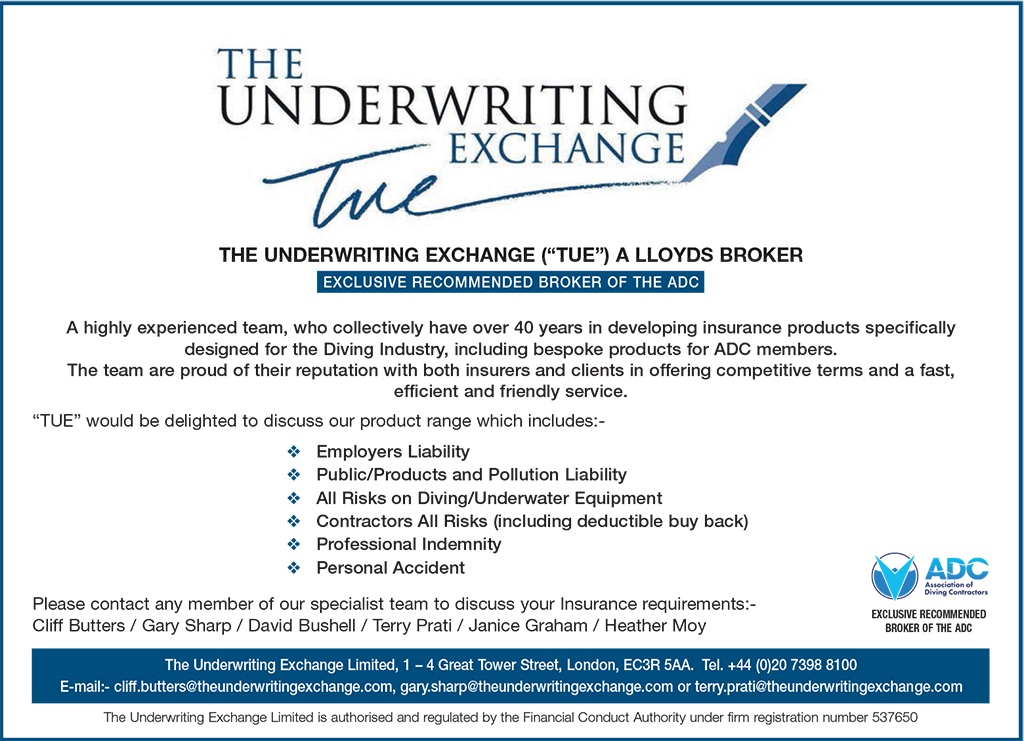 Please contact any member of our specialist team to discuss your Insurance requirements:
Cliff Butters / Gary Sharp / David Bushell / Terry Prati / Janice Graham / Heather Moy
The Underwriting Exchange Limited
1 – 4 Great Tower Street,
London,
EC3R 5AA.
Tel: +44 (0)20 7398 8100
E-mail:  Cliff Butters / Gary Sharp / Terry Prati
The Underwriting Exchange Limited is authorised and regulated by the Financial Conduct Authority under firm registration number 537650.
For more information, please visit: